12 Alternative Uses for Stainless Steel Cups to Organize Your Life
UTILIZE CUPS TO SOLVE COMMON ANNOYANCES
Although stainless steel cups are an indestructible, environmentally friendly, easy to clean alternative to drinking out of glass or plastic cups, they're so much more than a way to sip on your favorite refreshments.
I thought we had all of the uses figured out, but quickly realized that we had barely scratched the surface after asking the Greens Steel community what they use their Greens Steel cups for; the creativity of our customers is pretty impressive.

Whether you're looking to organize your cupboards, tidy up your cabinets, make arts & crafts a breeze to clean up, or just curious as to how versatile these unbreakable little guys really are, chances are you'll find a handful of nifty uses that solve everyday annoyances that you can never seem to get around solving with this ultimate guide to the many uses of stainless steel cups.

12
PORTION CONTROL
Got some fitness goals you're looking to smash, but find yourself downing a bag of chips or popcorn without realizing what happened? Same.
Studies on the human psychology have shown that people snack based on the amount of food they have in front of them, so the simple fix is to reduce the amount of food within reach; so instead of bringing the whole bag of salty deliciousness to the couch, scoop up a cupful into a 20oz or 16oz stainless steel cup and munch slowly.

11
PET FOOD SCOOP
Nobody likes getting dog food crumbs on their hand three times a day, and bacteria can quickly build up on old plastic cups. The antibacterial and hygienic properties of using stainless steel cups prevent this bacterial buildup from happening, and the fact that they're shatterproof means you'll only have to use the same one for life.
Doggie on a diet? Greens Steel Cups come in 10oz, 16oz, and 20oz sizes for easy measuring to ensure your furry pal meets his weight goals, too.

ARE STAINLESS STEEL CUPS HEALTHY?
Absolutely. Stainless steel is considered high quality food grade material and is used by prestigious event hosts and restaurants all throughout the food and beverage industry. Stainless steel drinkware also doesn't react to food and beverages when compared to other metals, especially aluminum bottles. Stainless steel drinkware doesn't deteriorate or harbor bacteria, are BPA free, and doesn't leach chemicals into your drinks like plastic drinkware does.
10
DESK ORGANIZER
Tired of rummaging around your desk drawers or cabinets for loose pencils, paper clips, or carabiners? Save yourself the time and aggravation by organizing them all into compact steel cups that are both functional and attractive.
09
COIN HOLDER
Chances are you're too old for a piggy bank but still need somewhere to collect all of your loose change kicking around your shelves, drawers and pockets. Stainless steel cups are a subtle solution to this common annoyance that's easy to store and access when you need to grab a few quarters.
08
SMALL PLANTER
A lot of planters come in cheap plastic containers that ultimately are stored in bland clay pots that easily fall over and shatter with the slightest breeze. Give your beloved herbs a shatterproof forever home that isn't only nice to look at, but doesn't leak all over the place.
07
WORK WATER COOLER CUP
While our stainless steel tumblers are the perfect solution for coffee or tea at work, you gotta give your body with good ol' fashioned H20. While single-use paper and plastic cups are convenient, they're a complete waste of material and pollution. Be proactive in both your hydration and waste habits and make the practical choice of bringing your own water cooler cup.
06
ARTS & CRAFTS
Having a place to toss pencils, crayons, and paintbrushes is a vital component of arts & crafts. (Ask my six-year-old) With that said, glass cups or mugs easily shatter and disposable cups are messy and cause needless pollution. Choosing stainless steel tumblers or cups are an eco-friendly, easy to clean, shatterproof option that can also be used to trace perfect circles - a great choice for watercolors.
05
ORGANIZE YOUR BATHROOM
The applications for organizing your bathroom with stainless steel cups are endless; they can be used as a toothbrush holder, shaving mug, storage for random knick-knacks, the list goes on. We even had a few customers write in saying they use their steel cups to clean and store their retainers or dentures!
04
EVENT SOUVENIRS
If you're throwing a fundraiser, work event, or any other get together that calls for gifts that people will actually use and not throw out immediately, we offer custom laser engraving on stainless steel tumblers, water bottles, and cups. Have your kid's high school mascot or work logo forever emblazed on tumblers, cups, or stainless steel bottles that will also last a lifetime.
Learn More
03
NO-BAKE DESSERTS
The best kind of desserts are those that require minimal effort; just layer the ingredients in a cup and toss in in the fridge. Stainless steel cups are an easy to clean option for no-bake desserts like cheesecake cups, snickerdoodle mug cake, oreo dirt pudding, and plenty more.
02
Baking
Conversely, stainless steel cups are incredibly handy when it comes to baking; they can be used to hold measured ingredients that can't be added to the mix yet, store leftover frosting, and cut perfectly shaped cookies.
01
KITCHEN COUNTER ORGANIZER
Leaving a sponge on the kitchen counter is not only unsightly, but can also damage the sealant in the corner joint of your counter - and leaving the bottle brush holder in the sink isn't exactly ideal, either. Organize your kitchen and tidy things up by using a stainless steel cup to store them both.
WHAT CAN YOU PUT IN A STAINLESS STEEL CUP?
Didn't find anything useful? The good news is that you can put just about anything in stainless steel drinkware that isn't boiling hot! Seeing as standard cups are not insulated, high temperatures will heat up the metal and can lead to burns and spills of hot liquids.
As you can clearly see, stainless steel cups go far beyond a simple drink holder - and this article barely scratched the surface of their versatility.
Got any suggestions we missed? Let us know in the comments!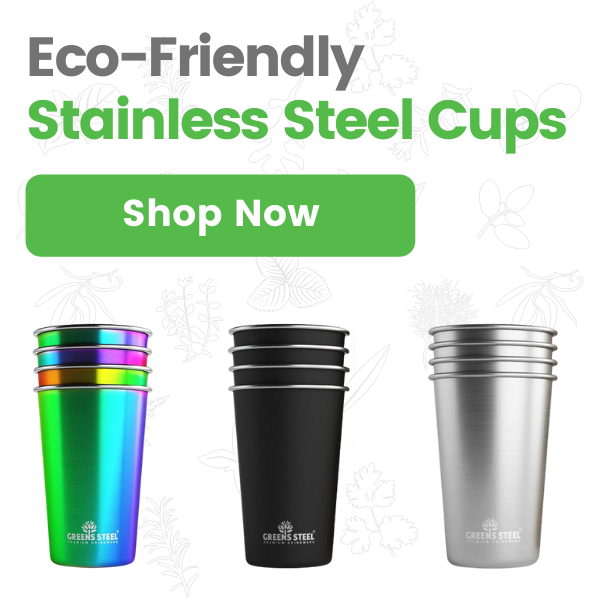 ---